Warm Their Feet (WTF); A Ghanaian Desert Boot Brand Makes Grand Entry.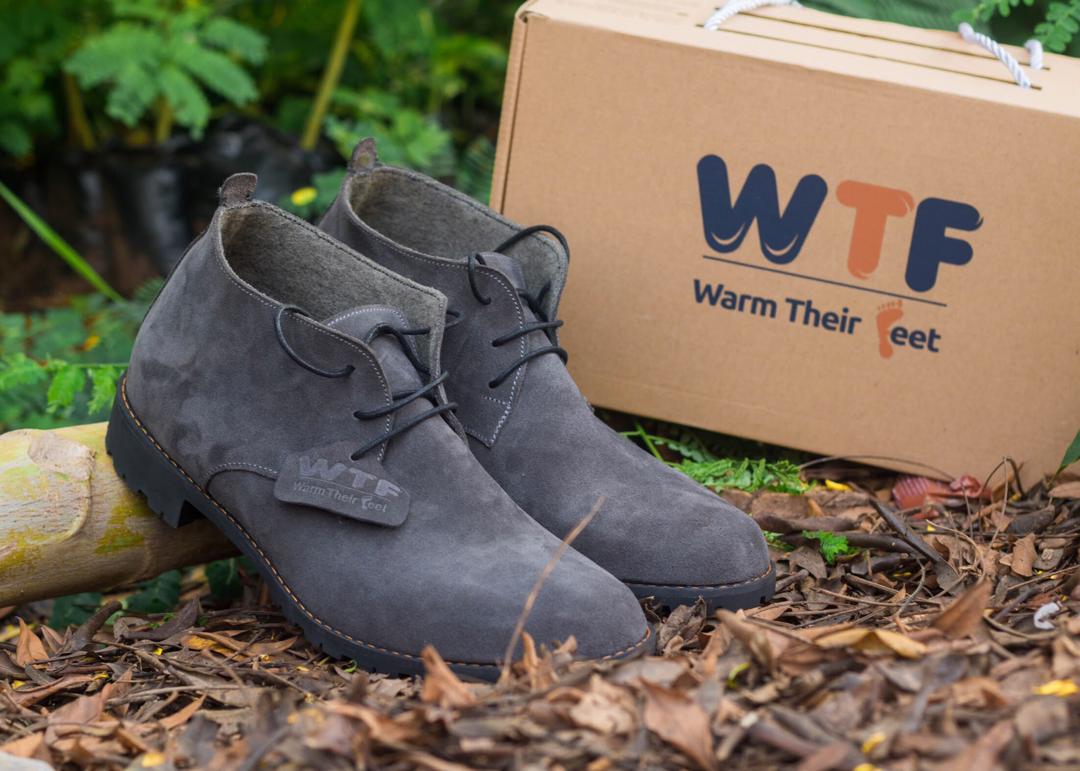 Ghanaian young and  enthused entrepreneur, Noel Nutsugah and partners, the wheels propelling change and inspiring hope with the "Warm Their Feet" foundation opens up a showroom to shore up their vision to sell shoes and to put shoes on the feet of the deprived Ghanaian Child. 
In a brief meeting with the press yesterday, 18th January 2019 at their newly opened showroom at Madina – Rawlings circle. Noel during his address detailed their vision, mission, the durability of the product, the make and types as well as the clientele base, they aspire to serve and how percentages from proceeds of sales go to lighten up the burden of walking barefoot to school, a phenomenon which is common in the deprived areas of Ghana.
"Our fine and classy desert boot is handmade in Ghana by WTF, a solely owned Ghanaian shoe brand. It comes in a high-quality suede leather made from the underside skin of exotic animals which makes it rugged and able to withstand hard-handed abuse."
He continued touching on the features, "It features a fluffy inner lining which is spread within the shoe and provides a comfortable feel to the foot. The soles are generally made from recycled gum that prevents wear and tear. Our unisex boots present a great choice between casual and formal wear."
The touching part of the presentation made by the young CEO was when he made mention of how the company is driven by the edge to lend a hand to the less privileged in society. 
"To maximize the impact of our enterprise on the community, we have put together a charity arm to the _WTF_ brand that focuses on identifying social problems, especially in the area if education and mobilizing funds to help solve these problems. We are activating the charity initiative fully this year with the first community of barefooted-school-going children identified in Brafo Yaw in the Central Region for this purpose. It is our aim to be able to do more to ensure that we are warming the feet of as many people as we can." Shared by Noel elaborating on the foregoing statement.
In rounding up, he uncloaks the future expectations to push their frontiers to cover many more regions and give people access not only to their product but the benefit of their social impact.
Contact details;
Call and Whatsapp line 0241960773
Facebook account: Warm Their Feet
Instagram account: Warm Their Feet
Website: www.warmtheirfeet.com
Below are pictures of products from WTF.
BEAUTY REVOLUTION FESTIVAL/ MC Extraordinaire, Nandipha Mqoco, To Host Africa's Biggest Beauty Event
JOHANNESBURG, SOUTH AFRICA, Saturday March 7, 2020/www.gbafrica.net/ – With only just a few weeks to go until one of the biggest beauty events of the year, the anticipation continues to mount for the 2020 Beauty Revolution Festival. In the previous year the festival wowed the Sandton crowds with it hosting all of South Africa's huge beauty community under one roof.
The Beauty Revolution Festival is a two day beauty event taking place on 13 and 14 March 2020 at the Sandton Convention Centre in Johannesburg. So you better come prepared to meet and greet your favorite makeup artists, beauty startups, bloggers, hair stylists and beauty brands.
The all exclusive masterclass lounge is set to be one of the many key features on offer to experience at the festival this March. In association with Foschini, Nedbank, All 4 Women and YFM, Beauty Revolution Festival 2020 has just recently announced their star-clad lineup of Mzansi's top makeup artist influencers.
The masterclasses will be taking place between 10:00am and 17:00pm and will be hosted by the the beautiful MC extraordinaire that is Nandipha Mqoco. The lineup is set to kick off each day with Cape Town's mega beauty babe, Rushana Isaacs followed by certified artist to the stars, Marco Louis. After him we have the major glam girl who needs no introduction, Mihlali Ndamse.
The final makeup artist will be creative and daring darling Kandy Kane. lastly, for all your hair tips and tricks, Candi & Co will complete the selection of top artists in the lounge along with a special guest appearance by rapper and queen of "Ragga", Nadia Nakai.
With such a hot lineup and more, Beauty Revolution Festival is sure to be a major highlight on your calendar this year. So to purchase your tickets to the festival make sure to get them here.
(Image Source: Jordan Milton)