Warm Their Feet (WTF); A Ghanaian Desert Boot Brand Makes Grand Entry.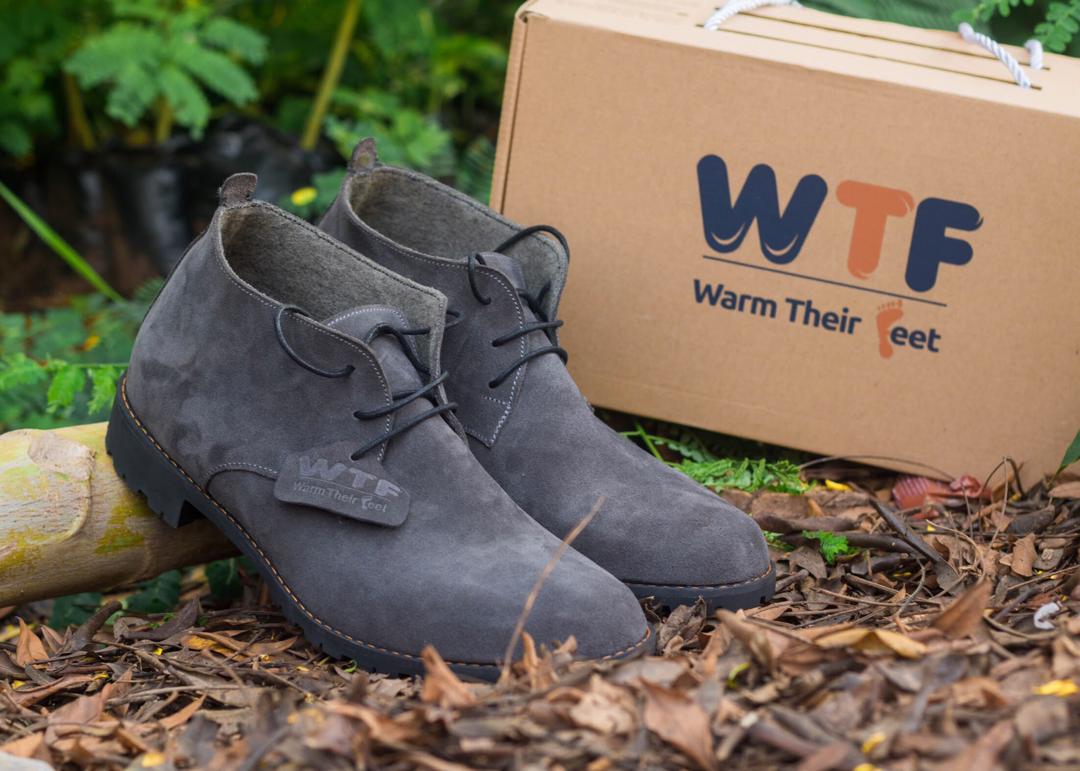 Ghanaian young and  enthused entrepreneur, Noel Nutsugah and partners, the wheels propelling change and inspiring hope with the "Warm Their Feet" foundation opens up a showroom to shore up their vision to sell shoes and to put shoes on the feet of the deprived Ghanaian Child. 
In a brief meeting with the press yesterday, 18th January 2019 at their newly opened showroom at Madina – Rawlings circle. Noel during his address detailed their vision, mission, the durability of the product, the make and types as well as the clientele base, they aspire to serve and how percentages from proceeds of sales go to lighten up the burden of walking barefoot to school, a phenomenon which is common in the deprived areas of Ghana.
"Our fine and classy desert boot is handmade in Ghana by WTF, a solely owned Ghanaian shoe brand. It comes in a high-quality suede leather made from the underside skin of exotic animals which makes it rugged and able to withstand hard-handed abuse."
He continued touching on the features, "It features a fluffy inner lining which is spread within the shoe and provides a comfortable feel to the foot. The soles are generally made from recycled gum that prevents wear and tear. Our unisex boots present a great choice between casual and formal wear."
The touching part of the presentation made by the young CEO was when he made mention of how the company is driven by the edge to lend a hand to the less privileged in society. 
"To maximize the impact of our enterprise on the community, we have put together a charity arm to the _WTF_ brand that focuses on identifying social problems, especially in the area if education and mobilizing funds to help solve these problems. We are activating the charity initiative fully this year with the first community of barefooted-school-going children identified in Brafo Yaw in the Central Region for this purpose. It is our aim to be able to do more to ensure that we are warming the feet of as many people as we can." Shared by Noel elaborating on the foregoing statement.
In rounding up, he uncloaks the future expectations to push their frontiers to cover many more regions and give people access not only to their product but the benefit of their social impact.
Contact details;
Call and Whatsapp line 0241960773
Facebook account: Warm Their Feet
Instagram account: Warm Their Feet
Website: www.warmtheirfeet.com
Below are pictures of products from WTF.
African Creatives To Be Celebrated Through FestivalAFRICANA
The talents of African creatives will be magnified through a series of programming by Pittsburgh-based FashionAFRICANA. They have teamed up with Paris, France-based retail company MoonLook to present the inaugural FestivalAFRICANA. Their aim is to give audiences an up-close-and-personal look at African culture through fashion and design.
The first installment of the four-part event series, which will continue into 2021, takes place in a virtual format this weekend, Oct. 17-18 at FestivalAFRICANA.com. The plan is for future FestivalAFRICANA events to be held in person when it's safe to gather in large groups again.
FestivalAFRICANA is spearheaded by three Black women from Africa and the African diaspora. There is Demeatria Boccella, a global philanthropy professional and founder of Pittsburgh-based FashionAFRICANA; Nelly Wandji, a Paris-based Cameroonian producer, gallerist and branding/retail specialist; and Saran Koly, a London-based Pan-African multi-faceted artist, writer, and creative director.
"My prime goal as a cultural entrepreneur has always been to create a safe place for interactions between nations and continents because when we share our culture and creativity with others, we celebrate our authenticity as storytellers and solidify our singularities," says Wandji in a press release. "That is exactly my summary for our selection of these creatives. They are part of global conversations, yet they remain authentic and proud of their heritage, traditions, and they revive centuries-old know-hows into the DNA of their brands."
For the first virtual installment, attendees can expect to see the premiere of There is No Place Like Home, a fashion editorial short film showcasing the best established and emerging Ghanaian designers, hear conversations focused on Black women shaping the fashion, beauty and lifestyle industries, enjoy a live performance by Ghanaian artist and singer, Worlasi, and take part in master classes in African dance, among other things.
"The late playwright, August Wilson, taught us, 'There is an Africa in each of us that we have to get in touch with to understand our relationship to this society.' This festival is a celebration of that individual and collective journey, and all African creatives and creativity," says Boccella. "My journey back to self has been fed by the beauty and vibrancy of the Diaspora, especially the union of fashion and art. I grow a little each day by sharing that union with the world, and I would like to continue connecting to culture through design."
Registration is free and open now at FestivalAFRICANA.com.
source: pghcitypaper.com