Photos: Comedian Waris And Other Comedians Thrill Fans At The Easter Comedy Show.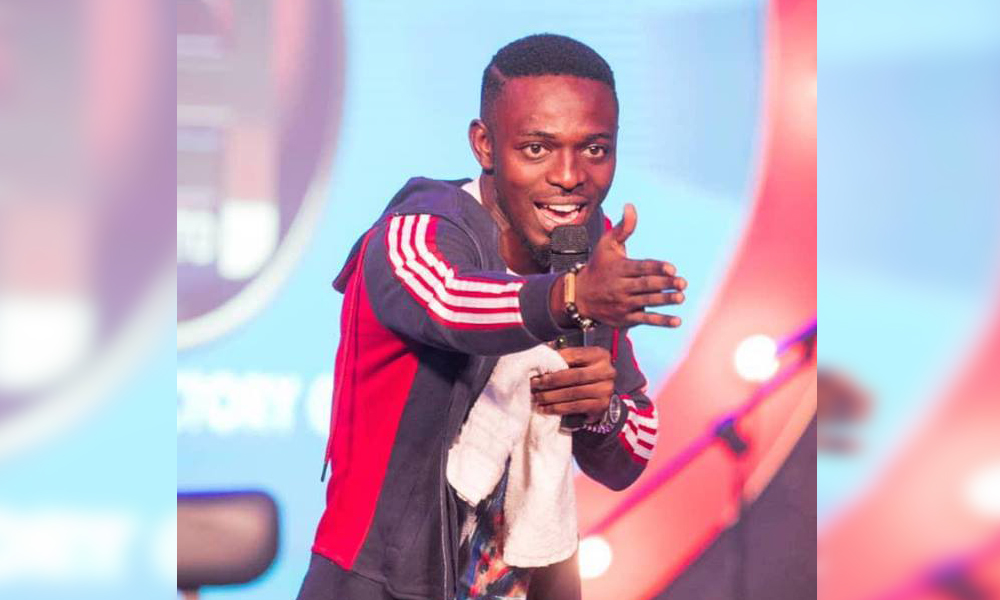 It was a night of humour and quality entertainment when events organization company, Event Factory Ghana Limited in collaboration with First National Bank comficted top notch Ghanaian, South African and Nigerian comedians on stage for the annual Easter Comedy Show.
Hosted by OB Amponsah, there was full of laughter at the Accra International Conference Centre (AICC) auditorium in Accra , Ghana on Saturday night, as the programme which was held in Accra brought together some of the well dressed comedians on the continent, including Ghana's Comdian Waris, OB Amponsah and Hogan, Nigeria's Akpo Roro and Senator alongside, South Africa's Mhpo Popps.
Comedian Waris, had a good reception from patrons of the show who could not conceal their laughter. He put up a spectacular performance at the programme. One of his jokes which got the audience in stitches was about how Ghanaians ask some silly and unwarranted questions, detailing it out that, Ghanaians undistordedly see him sitting, yet they proceed to ask "are you sitting?" Which he replied "No, I am jumping".
When South African comedian, Mhpo Popps, mounted the stage, his South African ascent wasn't barrier to deliver an awe-inspiring performance last night at the Easter comedy show. He touched on real life issues that left patrons rolling on the floor in search of a laughing space. He distinguished between an urban and rural mice, explaining that, Urban mice are only only interested in cheese whiles, rural mice gallivent looking for newspapers, Bibles, documents, and decomposed products just to feed on.
The night also witnessed some amazing musical performances from top Ghanaian musicians, including Akwaboah who with his artistry prowess was able to command the patrons in the auditorium to sing along during his extremely ominous performance. Couples or Lovers on the night had a glimpse of his soul soothing voice synchronized with love tunes.
Kidi also got some slot to entertain the most of the reserved audience who were present on the night. He created a cool ambience for the patrons after performing most of his hit songs such as, Mr Bad Man, Odo, Thunder Fire. Patch Bay Band was soo onpoint on the night as well. They were able to hit original key notes of the studio recorded song they performed.
Nigerians are best known for this comic craft, and yes! Indeed, comedian Senator kept the Nigerian comedy flag high after delivering a sensational craft last night. He was really in his element as he served the audience great comedy. He emphasised on how Ghana Police Service has upgraded from taking physical bribes and has introduced the Mobile money system. If a motorist is being arrested, they give you their Mobile Money number you deliver a smooth transaction.
The MC for the night who doubles as a comedian, OB Amponsah was also phenomenal! He maintained the standard he set right from the priminary stage of the show. The articulateness of his artistry was a rib cracking one. He engaged the audience in his performances, precisely calling couples up stage to sing a melodious song for each other. That alone was worth a joke because, the performance of some spouse can't be written home about.
Comedian Hogan is such as an amazing talent. Contrary to the perception people have about jokes and comedies, Hogan with his performance explains it that, comedies or jokes are not always full of fiction. He gave a realistic and classical example on how some Police officers stops to query a guy riding in his fully air-conditioned vehicle, they end up sitting in the air-conditioned car, telling the driver that, they want to enjoy the cool breeze in the car because, the sun is scorching.
Nigeria's Akpo Roro has proven to the world that when it comes to stand up comedy shows, his name can't be erased off the memories of his previous audience. He is an amazing and was one of the best performers on the night. Before he signed out of his performance, he jokingly quizzed a lady why she wasn't laughing over the night, which he stated that, whether the patrons like it or not, there are no more performance coming up on the night so, its either they laugh or assume they've waisted their money.
Every billed performer on the night left something on the lips of patrons, including media men, to talk about before the next edition is being stagged. The continental comedians performed to meet the recquired standard. Everyone present in the auditorium was fully satisfied because, they enjoyed every bit of the show.
If this Easter Comedy Show is something to write about, then we can boldly say that, Ghana's stand up comedy has come to stay forever, as audience has already rated it to be the best show in the year.
By: Gerrard-Israel GB.
FEATURE REPORT: Akrobeto Has Got The World 'Laughing Out Loud'
Throwback to approximately two years ago when Ghana's leading local languague broadcasting network – UTV Ghana announced actor and comedian, Akwasi Boadi, also known as 'Akrobeto' as the new addition to the list of its prolific on-air personalities to help disseminate news items to its audience, the whole country was left in a state of what was described as 'discomfort' due to his 'poor' formal education and journalism background.
Akrobeto was born at Ayirebi in the Ofoase Ayirebi constituency in the Eastern region of Ghana. According to his wikipedia, he did not have any formal education. He was a founding member of the Kristo Asafo drama group, when the drama group was founded by Apostle Kwadwo Safo in the late 1990s, along with Agya Koo, Mercy Asiedu, Nkomode the group performed in the Key Soap Concert Party at the National Theater. In 2008, he started featuring in kumawood movies.
What does an "illiterate" got to do with Journalism or radio and tv presentation? Well! I guess this paragraph will justify his call. Growing up in the sonic landscape of Ghana, we met a different style of practical journalism or broadcasting, thus, instead of employing well trained personalities with qualities like Investigative Skills, Tech-Savviness, Analytical Mind,etc into the field (that would however render the masses jobless), local media houses created shows – dominated by softnews that gave "illiterates" (with basically the ability to entertain an audience by making them laugh) to present on odd days and at odd hours. (Ofcourse no producer will air comedy oriented show on actively working days and hours).
Following his appointment as the host of "The Real News With Akrobeto", the show and the media house started generating interesting conversations amongst the Ghanaian populace of heterogeneous background, majority of which has been centered on the humor aspect of it. Each episode was anticipated as it has become a weekly dose of laughter to cure boredom and to fight stress. The television show has become the most viewed programmed in Ghana with an overwhelming digital presence. Snippet from the show has become the recent social media memes. Internet users use excerpt from to show as comments to other's posts.
Fast forward to 2020 – an era where the world is battling the glabal pandemic, Coronavirus, the veteran Kumawood actor has gotten international recognition with his comic news on Ghana's UTV on Fridays. The show focus on trending news – dominated by entertainment & social news and has recently added sports news. He has made the world a little bit brighter with his hilarious sports presentation sketch. Boadi decided to take a shot at reading out a string of scores from the Premier League during 'The Real News with Akrobeto', but not in a way you'd expect.
His pronunciation of the club names as well as the players are ribs breaking. The recent news he aired about Cesar Azpilicueta, the captain of Chelsea Football Club attracted his attention and got features on Spanish tabloid – Marca, El Chiringuito TV, Sport Bible, Footyhumor, Falcons among others. Despite UTV being a Twi TV station, Akrobeto combines English and Twi as the medium of communication to his audience.
AKROBETO HAS GOT THE WORLD LAUGHING OUT LOUD
Check out reactions from international media houses below;
Watch episodes of the show below;