Kasapreko Wins Outstanding Alcoholic Beverage Company At WABEA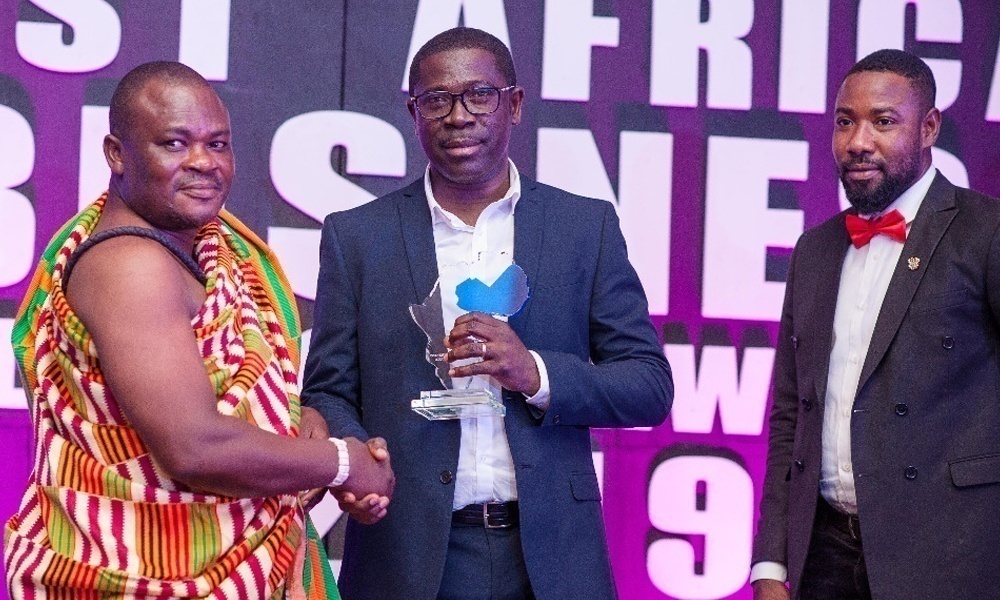 Kasapreko Company Limited (KCL), leading indigenous beverage manufacturing entity in Ghana, has been adjudged the Outstanding Alcoholic Beverage Company of the Year at the 2nd edition of West Africa Business Excellence Awards (WABEA).
The awards event held in Accra over the weekend saw Kasapreko beat competition from other giants in the alcoholic beverage manufacturing category in the sub-region.
The West Africa Business Excellence Awards (WABEA) provides a platform to recognize individuals and companies that play a significant role in the development of various sectors in the West Africa region to attract investors into West Africa.
The Managing Director, Kasapreko Company Limited, Richard Adjei, commenting on the awards, expressed his gratitude to WABEA for recognizing the great work that has been done over the years as a company to promote business growth and expand the economy.
"We at Kasapreko, this award stands as another landmark and a testimony that we are doing something right. It also serves as a motivation for us to do more as people are looking up to us to succeed so that they can also expand their business," he said.
KCL, the only indigenous beverage manufacturing company with ISO Certification and a member of Ghana Club 100, has won several awards both locally and internationally, including being awarded recently by Ghana revenue Authority (GRA) as the Largest Tax Payer of the Year.
Other recent awards include; "Young Manufacturer of the Year 2018" to Mr. Richard Adjei, CEO of KCL, and "Export Manufacturing Company of the Year" at Ghana Manufacturing Awards.
Mr. Gerald Bonsu, Commercial Director of Kasapreko, speaking to the media after the awards indicated that the company is very grateful for such an award and it is not for Kasapreko but for Ghana as well.
"I thank management and staff of Kasapreko Company limited for the hard work set in place to be recognized not only in Ghana but beyond," he added.
The flagship brand product of KCL, Alomo Bitters is in its 20th anniversary. Alomo Bitters is scientifically proven herbal alcoholic drink that has met all International standards and is selling in many countries across the globe.
KCL's mission is to be a multinational company creating lasting value for stakeholders by producing diversified alcoholic and non-alcoholic beverages from herbal and other traditional blends using first class technology.
Kasapreko is a total beverage company, having on its product line different products such as; mineral water, wine, cider, liquor and whiskey.
The One District One Factory (1D1F) initiative by government has recently adopted Kasapreko's new US$20 million factory expansion project in Kumasi to create jobs and help improve living standard of people.
Kasapreko's products are currently selling in several African countries including, Nigeria, Togo, Benin, Cameroon and Liberia. KCL has also been certified by the Food and Drugs Authority (FDA), of New York to sell their products in malls and shopping centre all over America and on flights as well.
The Crazy Things People Are Betting On In The Absence Of Live Sports
TOPLINE With most live sports suspended during the coronavirus pandemic, online gamblers have turned to different contests like Russian table tennis and Korean baseball, while also betting on everything from video games and reality television shows to political news and even the weather.
KEY FACTS
"[English] darts and esports have had big increases in betting volumes, along with football [soccer] leagues that have kept playing like the Belarusian Premier League," says Pascal Lemesre, a spokesman for U.K. betting exchange platform Smarkets. "Horse racing remains our most-traded sport and has made up two-thirds of volume since the lockdown began."
Many betting companies, like DraftKings, had to really dig and get creative with new offerings during the pandemic, says Johnny Avello, head of sportsbook for DraftKings. "We went out and found whatever we could… we wanted to keep our customers engaged."
A charity golf match with Tiger Woods, Peyton Manning, Phil Mickleson and Tom Brady, for example, has drawn massive interest and could surpass the betting volumes DraftKings saw in last year's major golf tournaments.
Betting on esports has also seen a huge uptick and has really "made its mark," he says: Virtual NASCAR races proved to be immensely popular, along with daily fantasy for video games like League of Legends and Counter-Strike: Global Offensive. 
There has also been a lot of interest in betting on politics, including who will win the 2020 U.S. presidential election, who Democratic nominee Joe Biden will choose as his vice president and how long UK prime minister Boris Johnson will stay in office. 
According to data from Smarkets, almost $2 million has already been traded on the election, with Donald Trump retaining a 5% lead over Joe Biden; Kamala Harris is frontrunner to be Biden's VP, slightly ahead of Amy Klobuchar.
Since the Democratic debate between Joe Biden and Bernie Sanders in mid-March, DraftKings has offered free-to-play betting pools around many political events, along with reality television shows like Survivor and Top Chef, and even the weather in certain states.
SURPRISING FACT
Bettors have certainly shown interest in gambling on the outcomes of their favorite TV shows: According to data from BetOnline, there was even a flurry of betting on the final episode of The Last Dance, with odds on things like whether Michael Jordan would cry while being interviewed or how many people would be shown with a cigar in their mouth.
WHAT TO WATCH FOR
Sportsbooks are seeing huge pent-up demand as some major sports like NASCAR and German Bundesliga soccer start to resume. Soccer, which normally makes up 45% of the Smarkets' betting volume, fell to 23%, maintained largely by interest in the Belarusian Premier League and Nicaraguan soccer, both of which continued to play games amid the pandemic. With the German Bundesliga resuming last weekend, betting volumes increased 428% compared to the previous round of fixtures before coronavirus, according to Smarkets.
CRUCIAL QUOTE
"When you don't have all the normal content, customers will migrate," Avello says. "That's the positive that's going to come out of this—we're always looking for additional content."
KEY BACKGROUND
DraftKings reported record betting during the NFL Draft last month—13x the volume from last year—and has also seen strong interest in the recent return of Ultimate Fighting Championship events, the company said. "We got good action on the stuff we did, but now that we're starting to get back to core events, demand should rise even higher," Avello predicts. If the NBA and NHL start playoff seasons this summer and the MLB returns, for instance, "it could be one of the bigger summers that we've ever had."
– Sergei Klebnikov, Forbes Staff, Markets