EAST AFRICA/ Tanasha Donna Labels Diamond Platnumz As "A Waste-man And A Pretender"
NAIROBI – Friday, April 24, 2020/www.gbafrica.net/ – After breaking up with East Africa's talented musician, Kenyan-based Italian, Tanasha Donna Oketch, has been angered by a statement made by her baby daddy, Diamond Platnumz, on women empowerment while drumming support for his new signee, Zuchu.
Over the weekend, WCB (Wasafi Classic Baby is a Tanzanian-based record label) President put up a post, thanking his fans for their overwhelming support to his new signee, stating that when women are empowered they can achieve the impossible and be able to compete with others in the industry.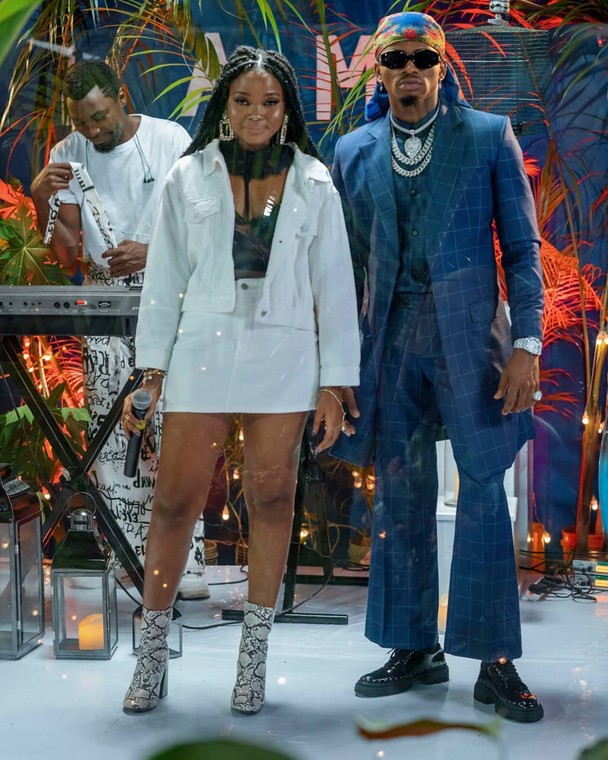 "Thank you for Helping @officialzuchu to set the Record of being the first New African artist to reach 100K Youtube Channel Subscribers within 7 Days…this is more than Love and it proves that Women they can if they are Empowered…on behalf of her I would like to thank you all for the Love and Major Support….please SREAM / DOWNLOAD & SHARE Her EP #IAMZuchu Available on all Digital Platforms now🙏🏼 (Ninayo furaha kuwajuza kuwa binti yenu @officialzuchu ameweka Rekodi ya kuwa msanii wa kwanza Africa, kupata Subscribers zaidi ya Laki moja kwenye Youtube Channel yake ndani ya Siku saba toka Kutambulishwa…..Hili ni jambo nzito na kwakweli nawapongeza na Kuwashukuru sana, kwasababu Bila nyinyi isingewezekana…. 🙏🏼)" wrote Diamobd Platnumz.
However, responding to such statements in a post on her instagram story, Tanasha Donna who labelled him as a waste-man and a pretender, wrote;
"It makes me sick to see waste men preaching women empowerment. Fake always gets exposed eventually. Like fake bags, fake jewelry, it will last a couple of days, maybe weeks or months but eventually, everyone can see it is fake," she wrote.
"I'm Cool With You", Stonebwoy Reacts To Shatta Wale's Claims Of Missed Calls
Stonebwoy has, in a recent tweet, reacted to comments made by Shatta Wale – who claimed the CEO of Burniton Music Group has stopped responding to his calls after the Asaase Sound Clash lyrical competition. In an interview with Kumawood actor Kwaku Manu', the multiple award winner disclosed his relationship with Stonebwoy has not been the same since then.
"After the clash when I call him, he doesn't pick and I have noticed that in life there are people who like to beef and I like such people a lot", he said. Stonebwoy knows my contact numbers and he knows the particular number I call him with yet he still doesn't answer when I call him," he added
But in a tweet, Stonebwoy stated that, though he is cool with Shatta Wale, it will be a false impression to suggest their friendship has mature to a more "brotherly" level
"I dey hear hear some phone call issues. @shattawalegh you know I'm cool with you..we cant assume that we are like "bread and butter" already. Small small okay bro, the last time I checked you haven't even replied your WhatsApp Yet", he said.
On Saturday, September 12, 2020, fans were able to enjoy a "Verzuz-like" battle between reggae and dance-hall greats Stonebwoy and Shatta Wale, who decided to switch things up by trading songs from within the same room. Together, the Ghanaian giants were able to perform their biggest classics in front of hundreds of indoor fans and about thousands social media users, all with their cultural flag behind mid-performance.
The morning after the much anticipated dancehall clash, social media users took to twitter to declare Stonebwoy the winner of the clash. Stonebwoy dominated social media trends after the night, with comments from social media users, stakeholders eulogizing him for putting out an outstanding performance. Shatta wale was mocked for leaving the stage just before the freestyle battle session which they claim was a clear indication of throwing in the towel.