AKA Is 50% Off The Bachelor's Market
South African hip-hop musician shared a post of an engagement ring on Tembe's finger with the caption, "21/02/21 – the love of my life said Yesssss. 💍" and fans and industry friends including rappers Khuli Chana, JR, LTido are already flooding AKA's timeline with congratulatory messages.
In May 2020, following rumours of the rapper's new love interest, AKA told his fans that, for the first time in more than a decade, he is enjoying every moment of dating a woman who isn't a celebrity, making it clear that his girlfriend is incredibly private.
Nelli also took to her Instagram stories to share the same photo with the caption, "I'm happy." AKA also reshared her post alongside the caption, "LOL, you hunnies sayin' it will end in tears. Learn a thing or two because JOKES on you lovies for being fuckin' trolls. Happy frikken Monday."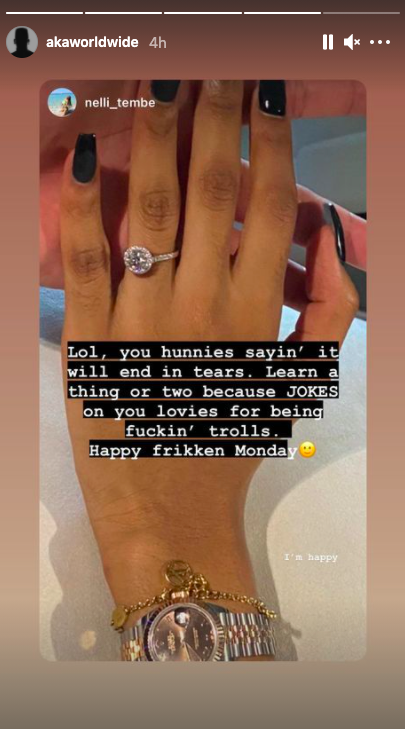 We wish them all the best in life. Congratulations AKA.
'The HIGHEST' Sarkodie Becomes The First Ghanaian Musician To Score Over 700K Subscribers YouTube
Two time BET Award-winning Rap icon, Sarkodie, has become the first Ghanaian recording and performing talent to amass over 700, 000 subscribers on YouTube. Michael Owusu Addo is one of the big artistes in Africa who is known for his outstanding and exceptional work that has gained recognition internationally. This has made his work garner a lot of views ion YouTube with most of them hitting over 10 Million views, with "Adonai" amassing over 70million views.
With a career spanning 10 years at the top of his game and a decade since his landmark debut album, 2009's joyous Makye – one of African music's biggest and best-loved hip- hop albums; Sarkodie has embarked on his exciting new chapter in his career with latest project 'Black Love'. Sarkodie was influenced by the American rappers such as Ja Rule, Tupac, Biggie, 50 Cent, Nelly and more that filled the airwaves in his hometown of Tema, Ghana.
As well as having tens of millions of album sales and over 80 awards to his name in his native Ghana, Sarkodie's sound – a fizzing blend of hiplife, hip-hop and Afrobeats – has led to sold-out shows at London's O2 Kentish Town Forum & performances with an impressive array of international names.
His contributions to the Ghanaian music industry have earned him numerous accolades, including the Vodafone Ghana Music Award for "Artiste of the Decade". He was announced the first winner of BET's Best International Flow artist at the 2019 BET Hip Hop Awards. He is also considered one of the major proponents of the Azonto genre and dance and one the most successful African rappers of all time.
Sarkodie often raps in his native language Twi, a Ghanaian Language and is considered a "multifaceted rapper" due to the various musical styles he possesses.
Sarkodie is often named as one of Africa's greatest hip hop artists. MTV Base ranked him sixth on its list of the Hottest African MCs in 2014. In 2013, Lynx TV ranked him first on its list of the "Top 10 Ghanaian Rappers of All Time". In 2015, AfricaRanking.com ranked him third on its list of the "Top 10 African Rappers of 2015". In 2015, The Guardian listed him as one of its top five hip hop acts on the African continent. He was ranked 8th on Forbes and Channel O's 2013 and 2015 list of the Top 10 Richest/Bankable African Artistes.